MyDATEC, another idea of comfort without air conditioning
Your ventilation, heating and air conditioning solutions play a major role in the comfort of your home. It is in this context that MyDatec differentiates itself by its solution against the current.
In fact, we talk about fresh air cooling for a natural fresh feeling. Conventional air conditioning is able to lower the indoor temperature but does not provide the comfort of fresh air.
By combining the functions of heating, cooling and ventilation, MyDatec stands out as a 3-in-1 solution, without an outdoor unit.

Find out more about the operation of a thermodynamic double flow ventilation system.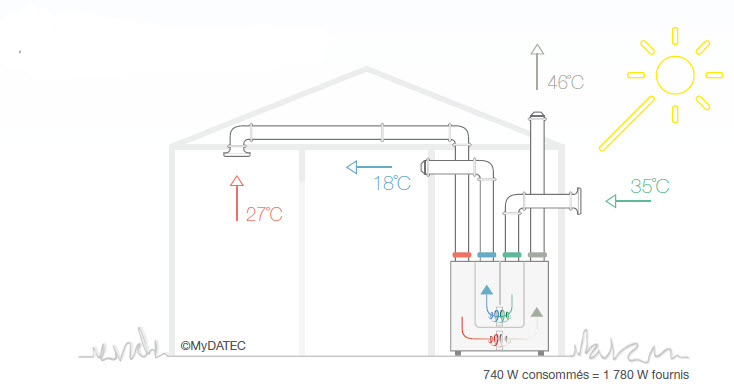 Overheating, the new enemy
Ne now have the necessary hindsight on the behavior of houses built under the 2012 thermal regulation.
The conclusion is clear : the issues have changed sides. If the winter comfort is now assured with less powerful solutions, the overheating of the interior is nevertheless apparent from the middle of the season, especially in over-insulated houses. This is why the responsiveness of a MyDatec reversible system (heating and cooling) operating on the air vector is a sustainable solution to this issue.
Whether it is for a new RT2012 construction, renovation or replacement of an old system, MyDatec has an adapted solution at the best price for your VMC.
Want to talk about the subject ? Contact us !