MyDATEC's ready-to-install replacement kits
The replacement of old systems, nothing could be easier with the ready-to-install kit
MyDATEC masters the specificities of each old system, and will know better than anyone else how to present you an offer adapted to the constraints of your installation.
The technical experts answer your questions, validate the feasibility of the project, and quote the complete custom solution.
MyDATEC ships the complete "ready-to-install" replacement kit directly to the job site.
The VMC is installed in place of your old system, with specially adapted fittings. A dedicated service department is at your disposal.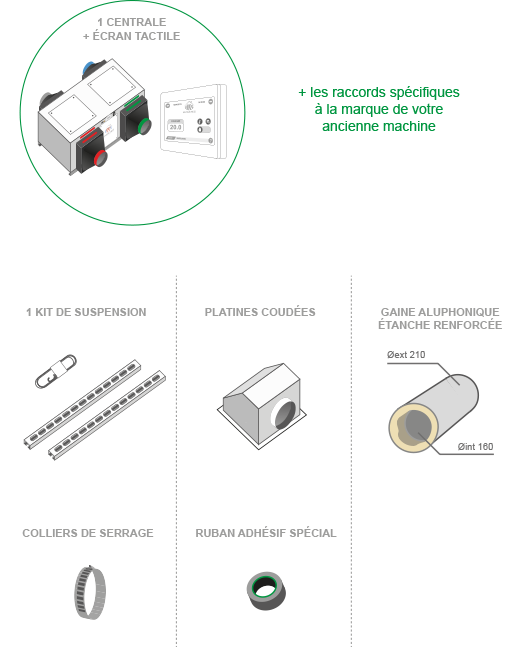 What you will gain with the new MyDATEC installation
What will the MyDATEC replacement solution do for me?
Much less power consumption
Compared to your old machine, MyDATEC's thermodynamic CMV meets your comfort requirements in all seasons, more efficiently, and with less consumption electric.
Better indoor air quality
A replacement by the efficient solution of MyDATEC thermodynamic double flow CMV allows to diffuse in all the house, an air
filtered
with a controlled flow. You will feel the difference of an optimized humidity level, a healthier air, with better controlled flows.
More heating power and comfort
The MyDATEC units can deliver up to 3KW of power with ultra-optimized consumption (thanks to the recovery of heat from extracted air) and even manage your heating supplements for comfort and optimized consumption.
The possibility of opting for the refreshment option
The power units included in the ready-to-install replacement kits are reversible. Depending on your installation, it may be possible to add a cooling function by reversing the heat pump to provide better summer comfort in case of heat wave.
The main questions you have regarding your replacement project
Does the MyDATEC system fit in the attic?
Your new MYDATEC machine is able to pass through standard access doors. You can therefore replace it with your old system in the attic. This operation is very common and easy to perform.
How many people are needed?
To perform a replacement efficiently and comfortably, we recommend that two people perform the operation.
What should I do with my old system?
The replaced machine should be taken to a waste disposal center near you.
I'm not sure if I can do the replacement myself
We can offer you the services of a partner installer.
To submit your project or ask us any questions you may have, contact us !
Some testimonials: