MYDATEC in renovation: Change your energy label from red to green!
In the current housing stock to be renovated, 72% of energy expenses are related to heating (CSTB study).
You want to start renovating: make your building more energy efficient!
In a renovation process, MyDATEC consultants will always advise you to start by making your home :
More waterproof
More isolated
Once this is done, as for applications in new houses, the MyDATEC thermodynamic CMV will make sense and its performance will be optimized.
MyDATEC in renovation: an excellent way to delay the start-up of an energy-consuming heating system:
Of course, MyDATEC can also be used in houses that are less efficient than BBC levels. In this case, the thermodynamic CMV will be an excellent way to delay the implementation of another heavier and more energy consuming heating system (oil or gas furnace, etc…), since it will be able in most cases to maintain the temperature of the house in mid-season. With equivalent power output, compared to a totally electric heating system, the system will allow you to consume 5 times less electric power thanks to the heat recovery on the extracted air (In the case of a RT 250 at -7°C outside – COP of 5,38).
However, the MyDATEC system delivers 2 to 3 kW of power, which is usually not enough for renovation. You can opt for the electric auxiliary heaters (up to 3KW additional) to bring a complementary power if you wish it.
With MyDATEC, increase the value of your home!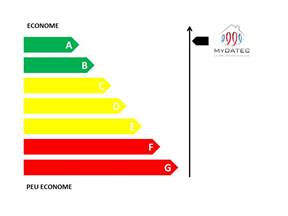 By installing MyDATEC, you increase the value of your home and upgrade it to a new energy label. You thus increase its value in sale as in renting… the occasion to put back your housing to the standard RT 2012!
Out of 3000 houses equipped with the MyDATEC concept, about half of them were in a renovation phase.
Example of office renovation with MyDATEC: Le Tissoir project in Lyon (69004):
It is an old workshop of canuts, in the heart of the Croix-Rousse district in Lyon, which was entirely renovated by the architectural agency Ecco-eco (founder: Soumaya Naoun, specialized in ecological renovation). The new offices (150 m2), named "Le Tissoir", were equipped with a MyDATEC thermodynamic double flow ventilation system for a global solution of double flow ventilation, heating and cooling with 2 independently managed zones and a coupling to a pellet stove. "While respecting the history of the place, we paid particular attention to the insulation and implemented low-polluting energy sources," explains the architect.