More than a ventilation solution, your MyDATEC central unit becomes the essential element in your home. In fact, in addition to the comfort of cooling in summer, your MyDATEC equipment is often used as the only source of heating especially in new homes where the insulation is optimal.
Our customers have not been mistaken: many of them have also recognized the energy savings and space savings of this complete solution.
Good to know: you can add complements to your machine: power reserves (wood stove, log stove, Canadian wells…) to provide additional heat.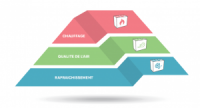 Once your project has been validated, the custom-made network kits and accessories are assembled in our workshop in France. Indeed, in addition to a real personalization of your project, you benefit from a dedicated team.
As a reminder: the studies carried out allow us to provide you with the aeraulic network adapted to your habitat (insufflation and extraction network of the stale air). It includes air inlets and outlets, sleeves, ducts, distribution boxes… In addition to this kit, your VMC is delivered with a ready-to-install accessory kit, with all the components necessary for its proper functioning. Our team assembles the kits in our workshop.