VERTICAL THERMODYNAMIC VMC SMART V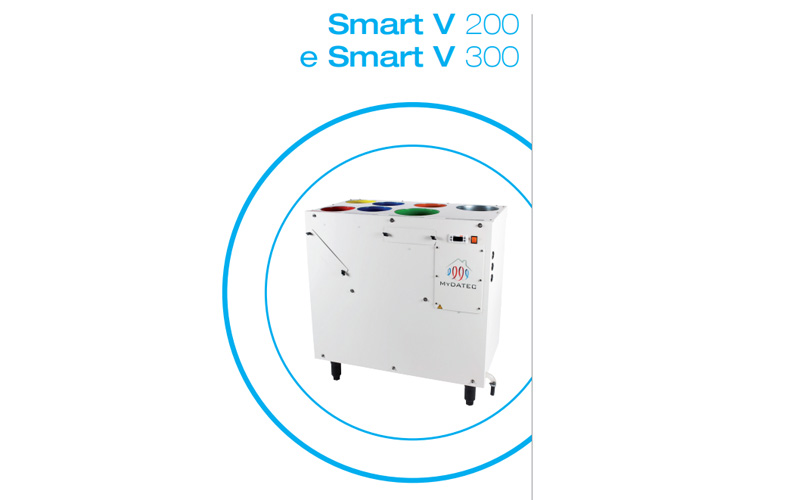 DESCRIPTION AND CHARACTERISTICS OF THE SMART V UNIT
The Smart V unit is a controlled mechanical ventilation double flow with thermodynamic recovery.
Vertical type (V), Smart V can be installed in an insulated and heated room. With a width of 86 cm and a height of 91 cm, its location must be at least 2.2m high to facilitate the passage of the ducts.
A
air kit
is supplied with the Smart V thermodynamic double flow unit. It is mainly composed of ducts, grilles, air inlets and outlets, VMC grilles and distribution boxes.
This kit is designed with the customer according to the constraints of the project. A color-coded layout is provided to facilitate installation.
Here is an example of a dual-zone single-family home configuration: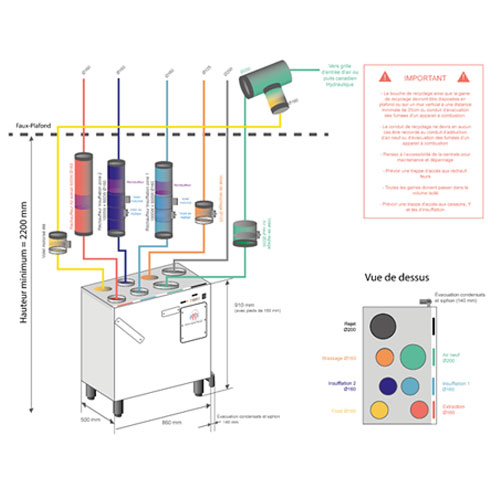 A SILENT VMC WITHOUT OUTDOOR UNIT
Without an outdoor unit, Smart V is composed of a compact monoblock integrating an extract air heat pump with its rotary compressor.
It is equipped with a low consumption fan with an EC ERP 2019 certification and its extraction rate can be adjusted.
With its thermo-acoustic insulation, its heat pump remains very quiet.
AN EFFICIENT HEATING SYSTEM
The Smart V central heating unit uses free energy from the extracted air to provide up to 3 kW of heating to the fresh air entering the living rooms.
That is to say approximately +27°C additional to the temperature of the outside air which enters the housing.
The smart V can produce up to 6 kW if combined with additional heaters.
When in "active cooling" mode, the Smart V delivers approximately 2.67 kW of power.
A bi-zone regulation on the insufflation makes it possible to direct this hot or cold air in an intelligent way in the various parts of the housing according to the day/night zone settings.
A reasoned and well-targeted energy production is in line with the convictions of everyone to preserve the environment while having a good indoor comfort.
INTUITIVE OPERATION AND INTELLIGENT CONTROL
A centralized touch control allows you to adjust the temperature by indicating the set points for heating and cooling.
You can also adjust the thermostat directly from your smartphone when you connect your mobile device with your installation via wifi.
The VMC automatically regulates itself according to the temperature, humidity and VOC (indoor pollutants) set points in each of the 2 zones.
All the settings are available, including the active cooling mode, free cooling (free cooling at night) and over-ventilation to dehumidify and depollute.
OPERATION
The 3 elements that guarantee a good functioning of the Smart V
In the same way as the VMC
Smart H
Smart V has three main elements that guarantee a good performance of the system:
● The ventilation network consisting of the clean circuit for incoming air and the exhaust air circuit.
● The thermodynamic exchanger which allows the transformation of the extracted energy to thus heat or cool the hygienic new air arriving in the living rooms. This is aa heat pump on reversible extracted air which provides heating in winter and cooling in summer.
● Intelligent system control according to your temperature settings
Smart V Series Application
Such a system isvery easy to install in a technical room thanks to its reduced size. Thanks to its assembly in the factory, the thermodynamic circuit is immediately operational after the finalization of the associated aeraulic installation and the electrical connections. It is not necessary to use a certified installer for the use of refrigerant gas.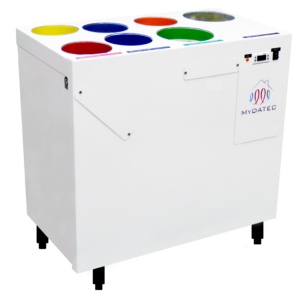 Its aeraulic characteristics are the optimal solution for indoor comfort in residential housing and small tertiary premises with good thermal insulation.
This solution for the heating of the air compensates the thermal loss of the introduction of new air in winter and contributes to the heating, (completely for the premises with low energy needs), in summer, the inversion of cycle will compensate the contributions of heat.
ADVANTAGES OF THE SMART V DUAL-FLOW AIR HANDLING UNIT
The SMART V has a number of advantages:
In winter, maximum recovery of heat from the extracted air regardless of the outside temperature conditions.
Reduction of the consumption for heating (high performance heat pump).
Air recovery near a stove and redistribution throughout the premises
Free cooling
Improvement of summer comfort by cooling and dehumidifying the new air (possible thanks to the reversibility of the system).
Internal air quality control. Renewed air and high efficiency filtration
Low consumption fan
Low noise level
Simplified installation: compactness of the unit, modularity of connections adaptable to all room configurations, integrated refrigeration circuit.
Easy maintenance, filter change indication, access from the front.
SMART V UNIT MODELS
The Smart V range has two models of CMVs including :
the Smart 200V
the Smart 300V.
Thus we can treat with a single machine premises from 60 to 220m².
We can also multiply the systems if the premises are larger or more specific.
SMART 200 V
The Smart 200 V thermodynamic double flow ventilation system is a central unit with a nominal air flow of 200m3/h.
Its heat pump delivers a power of 1.78 kW when cold against 1.9 kW when in heating mode.
With a coefficient of performance of 3.67, it can provide about 2936 W of energy when it consumes 800 W.
In addition, this unit is equipped with free cooling and Bizone functions that optimize indoor cooling and heating.
SMART 300 V
With an extraction flow rate of 300m3/h, the Smart V thermodynamic double flow ventilation system admits a power of 2.67 kW when cold against 3.1 kW when it is in heating mode.
This plant offers a good performance with a COP of 4.79. In other words, by consuming 800 W of energy, it can provide 3832 W.
Just like the Smart 200 V, the Smart 300 V double thermodynamic unit offers free cooling and Bizone functions.
Description and technical characteristics of the Smart V 200 and Smart V 300
Double flow CMV unit with high performance thermodynamic recuperator on the extracted air.
Functions: Ventilation and recycling, heating, cooling, automatic free cooling and dehumidification.
Touch screen user interface.
Automatic modulation of the supply air flow according to the set points (dual zone)
Sensors for air quality control (humidity and VOC)
Maximum flow rate 300 m3/h.
Exterior structure made of aluminum panels coated with white varnish.
Internal structure in expanded polystyrene with a density of 32 kg/m3 allowing thermal and phonic insulation.
Front panel with door for easy filter maintenance or replacement.
2 Centrifugal fans (IP44) with inverted blades.
2 Exchange coils with 15/10 aluminum/magnesium fins and copper circulation tubes.
Control panel for the control of operating parameters, regulation and diagnosis.
Communication protocol: ModBUS.
Fresh air inlet filter class F7 (ePM1 55%)
Extract air filter to protect the G4 system (COARSE 65%)
Sound pressure from 42 to 49 dB(A) NF EN ISO 3741.
Supply voltage 230 V / 50Hz.
Power output at 300m3/h with outside air at -7°C and inside air at +20°C: 3.64 kW.
Power consumption at 300m3/h with outside air at -7°C and inside air at +20°C: 0.76 kW.
Power output at 300m3/h with outside air at +35°C and inside air at +27°C: 2.67 kW.
Protection class: IP 31.
Air duct connections: 5 x DN 160 mm + 2 x DN 200 mm on top of the unit.
Condensate drain connection DN 20 mm on the right side.
Net weight : 60 Kg
Dimensions : WxHxD: 860 x 925 x 500 mm.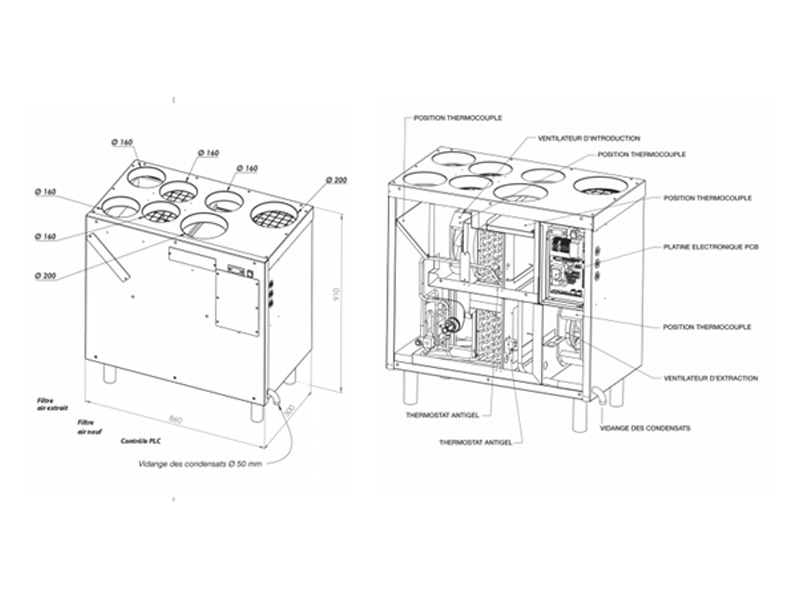 THERMAL REGULATION AND SMART V CONTROL
MyDATEC facilitates the adjustment and the control of your Smart V thermodynamic double flow ventilation system thanks to its centralized control.
Connected with your mobile device, it allows you to
to remotely control your thermodynamic double flow CMV.

MyDATEC also offers a tutorial to help you enter the
thermal control
of your device. This makes it easier to set up the data when activating your connected device.
Get advice on which Smart V is right for your project.