Benefits
Touchscreen interface
Temperature sensor
Humidity sensor
Volatile Organic Compounds (VOC) sensor
Principles
DISPLAY
On / off
Heating / Cooling
Eco / Boost
High activation / deactivation
timed extraction speed
Comfort temperature setting
Indoor air quality control
Weekly programming
Filter clogging management
Consumption
System information
Probe calibration
Installer settings
(under password)
Field of application
Housing (new or renovation)
Tertiary
Replacement of old systems
| Markets | Number of control points | Touch screen | Air quality sensor (*1) | Change over (*2) |
| --- | --- | --- | --- | --- |
| Replacement | 1 | 1 | 0 | No |
| Habitat | 2 | 1 | 1(T+%) | No |
| Habitat (VOC) | 2 | 1 | 2(T+%+COV) | No |
| Tertiary automatic | 2 | 1 | 1(T+%+COV) | Yes |
| Tertiary | 2 | 1 | 2(T+%+COV) | No |
(*1) MyDATEC air quality sensors are available in two versions:
Base: T+%, Temperature sensor + Humidity sensor
VOC: T+%+VOC, Temperature sensor + Humidity sensor + VOC sensor
(*2) Change Over :
It is a specific interface for the tertiary market allowing the automatic switch from heating to cooling mode and vice versa. The operator only needs to enter a heating and cooling setpoint temperature and the system automatically changes its operating mode depending on the room temperature.
In the Tertiary versions :
The touch screen can be in a remote location not accessible to users (e.g. closet or management room) as the temperature sensor is not used in these configurations. This allows, for example, in the case of a teaching room, that the regulation control is not accessible to the people who operate the place.
Description
– Dimensions : W 60 mm / H 70 mm / D 23 mm
– Brushed stainless steel cover finish
– Power supply: 5 VDC from MyDATEC control unit
– Communication: MODBUS RS485
– Connection: 4 wires (2xAlim. + 2xModbus)
– Integrates perfectly into your environment, with flush or surface mounting
– Dimensions : W85 mm / H85 mm / D20 mm
– Cream polypropylene frame
– 320 x 240 pixel color screen
– Resistive touch panel
– Power supply: 12V VDC from MyDATEC control unit
– Communication: Modbus RS485
– Connection: 4 wires (2xAlim. + 2xModbus)
– Fits perfectly into your environment
System security
– High Pressure Protection
– Low pressure protection (leakage)
– Maximum blowing temperature
– Extracted air temperature too low
– Compressor start-up fault
– Temperature sensor fault
Technical specifications
The control of your comfort and your indoor air quality
The MyDATEC system allows a heating (Winter mode – Heating) and cooling (Summer mode – Cooling) contribution. The system is controlled by one or two indoor temperature sensors allowing a management on a single zone or on two zones (Day Zone + Night Zone).
In addition to this temperature comfort management, the MyDATEC air quality sensor has a humidity sensor and a Volatile Organic Compound (VOC) sensor, depending on the chosen configuration. This information on your indoor air quality allows you to regulate your air renewal rates in order to maintain a good quality of your indoor air through a more or less important fresh air renewal in your home.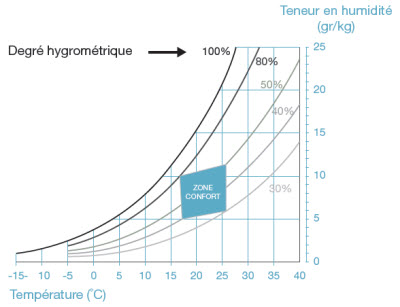 Comfort zone via temperature and humidity

Evolution of VOC and CO2 levels in a meeting roomVOCs have a direct impact on health.
Several air quality standards (Cf OQAI: Observatoire de la Qualité de l'air Intérieur) have in the past pointed the finger at indoor air pollution by VOCs from
furniture glues, cleaning products, etc.
Also, MyDATEC's research has allowed us to correlate CO2 pollution (human presence) with VOC pollution, the VOC sensor being more reactive
than the CO2 sensor. In fact, the presence of humans necessarily leads to VOC pollution in the air due to the presence of alcohols contained in cosmetic products and
perfumes.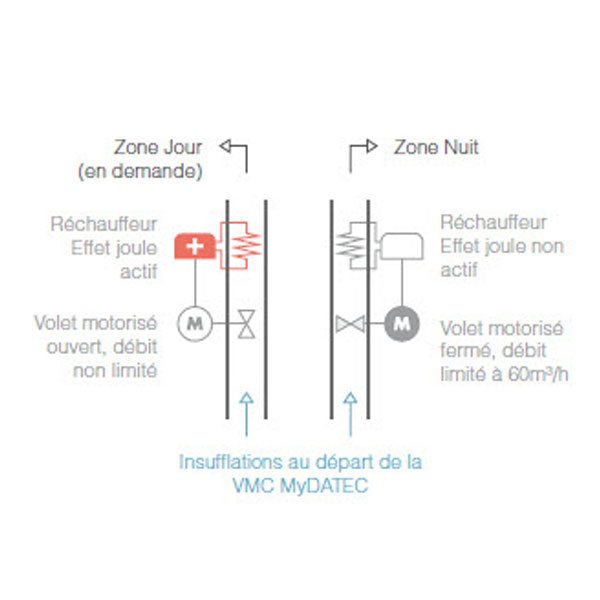 Explanation
The insufflation network of the MyDATEC device is divided into two outlets. A first departure towards the insufflations of the Zone known as of Day and a second departure towards the insufflations of the Zone known as of Night.
The operation of the BIZONE option is to concentrate a large part of the heating or cooling power of the MyDATEC unit on the zone in demand when only one of the two zones is in demand.
The dual-flow damper allows a maximum flow rate of 60 m³/h to pass through the insufflation branch on which it is mounted, if it is not activated (closed at rest). If it is activated (opened under voltage), the flow is no longer limited.
The operation of the BIZONE is totally automatic, you don't have to do anything to make it work. However, information is available on your
touch screen
to show you how it works.
Benefits
Remote control of the operating modes of the CMV
Temperature settings
Notification on alarms
Principle
The MyDATEC system can be controlled via a mobile application (iOS & Android) or via a web browser. This interface allows the end-user to control the operation of the system and mainly its comfort temperature.
Alarms can be activated for filter replacement management, low indoor temperature requiring the system to be turned on, or an alarm indicating the need to turn on a supplementary heating system.
This remote connection also allows the installer and manufacturer to connect to the system to provide services:
Remote Operating History (3rd Quarter 2017)
Remote Maintenance Diagnostics (1st Quarter 2018)
Field of application
Housing (new or renovation)
Tertiary
Replacement
Description
Visualization of the temperatures of the regulation points of your VMC.
Adjustment of your heating / cooling setpoints.
Remote control (start-up, heating or cooling mode, Eco / Boost mode)
Possibility of receiving alarms by notification concerning :
– Changing dirty filters
– An alert when the indoor temperature is low
– An alert when the power reserve is switched on
MyAssist, your indoor comfort