MyDatec : Thermodynamic double flow ventilation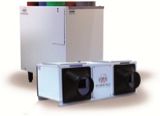 The system
Thermodynamic double flow CMV
MyDATEC, ensures air purification by ventilation.
Both efficient and economical, this system allows you to diffuse filtered, dehumidified, cooled or heated air in your home, depending on the season, thanks to its integrated heat pump (no external unit).
With the MyDATEC concept, discover the comfort provided by the double flow thermodynamic CMV.
More information on the thermodynamic double flow ventilation system
To find out more about the thermodynamic double flow ventilation system, contact us.
Suggestion of links to visit for thermodynamic double flow ventilation
All data and photos published on this site are provided for information purposes only. They are subject to change at any time due to their non-contractual nature.