Thermodynamic air handling units for the tertiary sector
If the Controlled Mechanical Ventilation (CMV) is well known under this name for individual residential projects, for tertiary projects its name is more often the Central Air Treatment (CTA )
Offices,
schools,
firms,
shops,
restaurants,
nurseries…
MyDATEC's thermodynamic AHU is committed to improving occupant comfort while ensuring their safety.
You are a professional and wish to install or replace a ventilation system in a room or a tertiary building? Benefit from the expertise and know-how of MyDATEC professionals. We intervene near you and help you to find the solution of
Thermodynamic AHU
the most adapted to your sector of activity and to your needs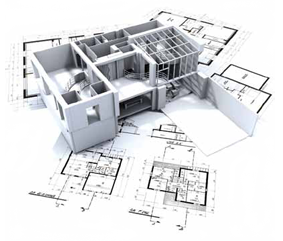 The Air Handling Unit (AHU), guaranteeing efficient ventilation for tertiary buildings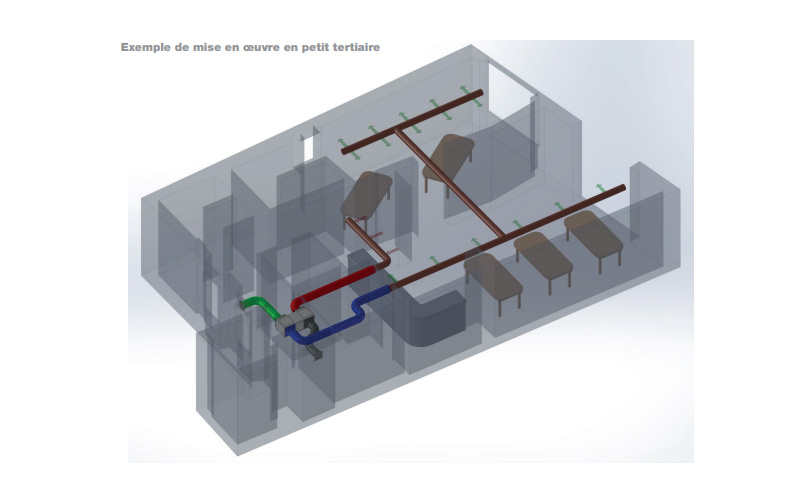 A collective ventilation system to protect the health of the occupants and improve energy performance
While individual homes are increasingly airtight and better insulated, ensuring that the air is regularly and adequately supplied is also a key issue in the commercial sector.
a good renewal of the indoor air
In the service sector, ensuring a regular and sufficient supply of fresh air is also a key issue.
Whether you are in a new construction or in a renovation project
in renovation
The purpose of installing a ventilation system in buildings and premises of the tertiary sector is to :
Optimize your thermal performance;
Improve the quality of your work environment;
To benefit from a healthier atmosphere;
To guaranteehygiene and health;
To ensure the safety of all occupants;
To comply with the regulations, standards and specific requirements of the tertiary sector in terms of ventilation;
Reduce your energy bills and help you achieve significant savings.

Specialist in thermodynamic ventilation for over forty years
MyDATEC offers many solutions to improve your comfort in a personal and professional setting.
What are the standards and regulations in force for the tertiary sector?
There are different types of regulations and requirements to be met in the tertiary sector:
Thermal regulations
With the advent of the BBC label ("low energy building") since 2013 and the latest changes in the RE 2020 thermal regulation, the development of passive buildings has continued to increase in recent years. This growth responds to the standardization of positive energy buildings, established by the Grenelle de l'environnement and which has become the standard in construction since the RE 2020. This type of building is characterized by its renewable energy production, which must be greater than its annual consumption of non-renewable energy.
Specific regulations
In addition to energy regulations and standards, other regulations govern tertiary sector installations. These specific regulations aim to quantify the minimum ventilation rates (fresh air) that must be introduced into the premises.
Among these texts are:
The Standard Departmental Sanitary Regulations (RSDT), for premises receiving only the public;
The Labor Code (decrees n°841093 and n°841094 of December 7, 1984), which concerns all premises assigned to a salaried activity, and more particularly to establishments in operation, new constructions or modifications of buildings intended for the exercise of an industrial or commercial activity;
The Evin law (decree n°92-478 of May 29, 1992), which applies to all premises for collective use (following the smoking ban) and premises reserved for smokers (requiring specific outlets).
If you have both employees and the public, the calculation of your air requirements will take into account the total number of employees and the number of public.
MyDATEC solutions are the perfect fit
The offers are in full compliance with all these norms and standards.
Before any installation, make sure you have all the necessary authorizations to install your device.
How to choose your Air Handling Unit (AHU)?
Because each project and
each use is unique
our experts will help you define your needs and choose the solution best suited to your activity, right up to the installation and maintenance of your model.
Assessing and managing air quality in commercial buildings
To properly
managing air quality
of your premises and tertiary buildings, it is first necessary to evaluate the various sources of pollution, intrinsic as extrinsic:
Whether you are hosting employees and/or the public, you should consider several criteria, including:
Water vapour emissions, generated by human activities (breathing, cooking, toilets, etc.) and likely to cause humidity problems and a feeling of discomfort within your premises. Did you know that a single person gives off at least forty grams of water vapor per hour?
Body odor, which can stagnate and create a form of olfactory discomfort.
Carbon dioxide, whose high level can affect health (migraines, nausea, choking sensation, etc.). To give you an idea, a single person in a sitting position emits an average of eighteen liters of CO2 per hour.
The nature of the activities inside the buildings (tobacco smoke, industrial dust concentration, toxic gases, carbon monoxide, etc.).
Types of building materials used (formaldehyde, volatile organic compounds, solid particles, etc.).
Other external sources (traffic pollutants, ozone, pollens, viruses, radon, etc.).
Faced with these multiple sources of pollution, it is necessary to ensure the proper management of air quality. To avoid health problems, discomfort and the risk of deterioration of the building, favour a collective ventilation system capable of diluting and evacuating the pollutants emitted in the premises to a level deemed acceptable.
How does a collective and tertiary CMV work?
A collective and tertiary CMV is composed of a roof extractor or a ventilation box, connected to one or several ducts equipped with ventilation outlets. The latter will serve the wet rooms, such as the sanitary facilities for example. The power of the ventilation must be adjusted according to the rhythm and lifestyle of the occupants.
Several types of collective and tertiary CMV
The market offers:
The single flow tertiary CMV;
The tertiary double flow CMV;
The collective ventilation box ;
The industrial air extractor (or VMC by industrial extraction).
The Air Handling Unit (AHU) with thermodynamic recovery
Among the collective CMV systems adapted to the tertiary sector, we find the
Air handling unit (AHU) with thermodynamic recovery
. As its name indicates, it aims at receiving and treating the air which will be blown towards the premises needing to be air-conditioned, thanks to a specific ducting.
If a ventilation system that is too old can cause significant heat loss, installing a thermodynamic AHU has several advantages:
To ensure the renewal ofthe air at all points of the premises;
To vary the quantity of extracted and blown air, thanks to a variable static pressure;
To recover the calories (or frigories) of the air extracted by aspiration in order to reinject them in the premises by insufflation
(double flow CMV system
) ;
Benefit from a fresh air filtration system, essential when there is a high risk of pollution of the atmosphere;
Monitor and regulate temperature and humidity (hygrometry).
Choosing the right ventilation system for workplaces and public areas
This is therefore essential. Complementary to efficient heating and insulation, MyDATEC's ventilation solutions, such as the thermodynamic AHU, allow you to control the air flow necessary for good air quality.
MyDATEC offers a wide range of individual and collective ventilation systems. Find our numerous products and accessories (ductwork, ducts, fittings, air inlets, etc.) for the commercial and industrial sectors. If you would like to know more about our solutions and
receive a custom quote
please contact our team of experts.
If the thermodynamic AHU is perfectly adapted to all projects in the tertiary sector, new or renovation, MyDATEC also equips many individual residences.