Replace an old HVAC system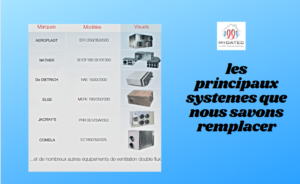 Discover the efficient and economical air purification!
An aging system, a breakdown or the need to have a truly optimal system? We have the solution for the replacement of your existing equipment!
With the MyDATEC concept, you can easily proceed with the replacement of your old system.
replacing your old system.
The term "heat pump replacement" is often used when referring to older systems (extract air heat pumps only).
Compared to your old machine, MyDATEC's thermodynamic CMV meets your comfort requirements in all seasons, more efficiently, and with less consumption electric.
What will the MyDATEC replacement solution do for me?
A replacement by the efficient solution of MyDATEC thermodynamic double flow CMV allows to diffuse in the whole house an air
filtered
refreshed or warmed according to the season.
We are able to replace many models such as De Dietrich, Jacray's, Aeroplast … thanks to
a complete adaptation kit
.
The latter ensures an easy replacement thanks to the suspension kit, the angled plates, the sheaths, the clamps and the specific connections linked to your old machine. A manual will allow you to follow all the steps step by step to ensure the success of the system change.
Not sure what type of model you have in your home? Do not hesitate to contact us! A MyDATEC expert will work with you to refine the existing possibilities.
Finally, to submit your project, contact us !
The main questions you have regarding your replacement project
Does the MyDATEC system fit in the attic?
Your new MYDATEC machine is able to pass through standard access doors. You can therefore replace it with your old system in the attic. This operation is very common and easy to perform.
How many people are needed?
To perform a replacement efficiently and comfortably, we recommend that two people perform the operation.
What should I do with my old system?
The replaced machine should be taken to a waste disposal center near you.
I'm not sure if I can do the replacement myself
We can offer you the services of a partner installer.
To submit your project or ask us any questions you may have, contact us !