REGULATION VMC
WHAT DO YOU NEED TO KNOW ABOUT THE REGULATION OF THE VMC?
Aiming to optimize occupant comfort and reduce energy consumption through more environmentally friendly alternatives, the RE 2020 regulation applies to new buildings. Constantly revised and improved, it is now in its seventh version.
What does this regulation apply to? What are the associated obligations? What does it allow? Here are some elements to help you understand …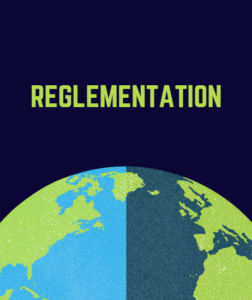 THE RE 2020 REGULATION
In 2021, France will move from a thermal regulation to an environmental regulation: the RE2020, more ambitious and demanding for the construction industry.
It is part of a continuous and progressive action in favor of less energy consuming buildings. Since 1974, several successive thermal regulations have been put in place. The latest, the RT2012, resulting from the Grenelle du l'environnement, already set high requirements in terms of building design, comfort and energy consumption as well as requirements of means.
In France, the building sector accounts for 44% of energy consumption and nearly 25% of CO2 emissions.
Source : Gouv.fr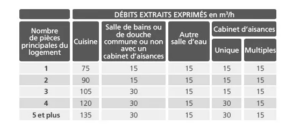 APPLICATION OF THE VMC REGULATION
Since 1969, the ventilation of dwellings is regulated. The decrees of March 24, 1982 and October 28, 1983 brought evolutions specifying the principle of general and permanent aeration as well as the flows to be extracted.
– Ventilation must be general and permanent.
– The air must be able to circulate freely from the air inlets located in the main rooms to the extract units located in the service rooms.
REDUCE ENERGY CONSUMPTION AND HEAT LOSS
The regulation VMC RE 2020 is particularly interested in reducing the carbon impact of buildings, continue to improve their energy performance and ensure a certain coolness during heat waves. For several years, MyDATEC systems have been meeting this last requirement by offering a cooling solution.
To meet this expectation, homeowners choose between installing :
a single flow humidity sensitive CMV
and a double flow VMC model.
However, even if the humidity sensitive single flow CMV is able to regulate the airflow and to limit the thermal losses,
it is less efficient than a double flow CMV
.
RE 2020 : WHY CHOOSE A DOUBLE FLOW UNIT?
The RE 2020 (official text to be downloaded here ) indicates that new buildings will have to produce more energy than they consume. The choice of a double flow ventilation system is now essential to your construction.
Indeed, the double flow CMV :
purifies the air,
limits thermal losses
and offers a substantial energy input to optimize heating.
Moreover, with its double flow heat exchanger, it blows fresh air at room temperature.
Coupled with a
thermodynamic air/air heat pump
this VMC provides all the heating and air conditioning needs.
THE MYDATEC THERMODYNAMIC DOUBLE FLOW VENTILATION SYSTEM AND THE RE 2020 REGULATION
Our systems will be able to be simulated in the calculation software from November 2022.