26130 (St Paul Les Trois Chateaux)
Type of project : Replacement
I share with you my experience following the installation of my Thermodynamic VMC in replacement of a Jacrays heat pump. This experience will mainly concern the study, purchase-delivery and installation phases. As for the performance of the machine, I don't have enough experience to make a complete assessment.
I decided to change my old Jacrays brand VMC which dated from 1980 and had not worked for 2 years. After some research, I arrived at your place where I received a good welcome and a discussion about my project started right away. With the MyDATEC sales representative, who is passionate about his work, available and responsive, I had all the answers to my questions, throughout the study and afterwards.
So I placed an order at the end of August for a delivery announced for September 15. Deadlines kept to the day. Material delivered on the day and time agreed with the carrier.
A clear installation manual is provided and allows a trouble-free installation by any DIYer. I therefore replaced my old Thermodynamic CMV by making some modifications to the ventilation circuits following the advice of the MyDATEC sales representative, mainly on the outside air intakes and stale air rejection and by adding an extraction in a laundry room.
The commissioning took place mid-October without any problems. I immediately found the comfort, only better, that I knew with my old VMC. Why better? Quieter, better air circulation, much higher blowing temperature. I kept the temperature in my house at 21° until November 20th. Since then, I have put 4 radiators in service, which work as complements (these last 2 years without VMC thermodynamic, I had 9 radiators in service to obtain 20°). For the moment I can't say anything more about the functioning. I will come back to you to make an assessment after a full season.
For information here are the temperatures read this day: Outside air : 7,2°, Supply air : 54°, Extract air : 21°, Reject air : 4,7°.
I am attaching a picture of my installation.
Sincerely.
François ******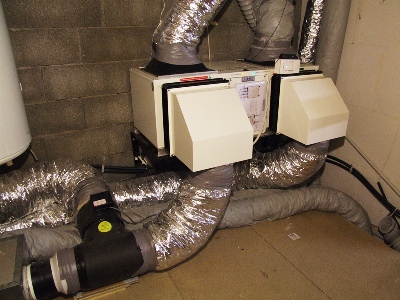 Replacement of Jacrays by RTH thermodynamic ventilation