Context
When my house was built in 1980, I installed an AEROPLAST heat pump (STH 830 NR). It gave me complete satisfaction with an annual maintenance of the filters and the group, but after 37 years the machine became a little retro with a Cop of 2.5. The company having ceased its activity, I looked for a new equipment compatible with my installation.
That's how I discovered the MyDATEC website while doing research on the internet. The concept of the central SMART RT 250 Horizontal has been found to be strictly comparable with AEROPLAST. It was therefore possible to substitute my old equipment. The main constraint is to be able to connect to the existing ductwork.
Contacting MyDATEC
I contacted MyDATEC by phone. It was the salesman who took charge of me. Immediately the contact is very pleasant. I told him my problem and he immediately confirmed that the MyDATEC RT 250 H could replace my old system. I suggested that he do the installation himself, no problem, MyDATEC provides technical assistance if needed.
Immediately, I received by email a very precise technical file of information.
Description of the quote
The price offer included:
supply of the MyDATEC Smart RT 250 H cooling unit
four angled plates
the accessories of reductions
cold bypass
a Ø 200mm heater
a roof air outlet, a wall air inlet with grille
of the Ø 200mm insulated aluminium sheath with the collars
a touch thermostat with modbus cable
transportation
The proposal seemed serious and convincing to me.
Material reception & assembly
The delivery was quite fast, after transfer of the amount agreed by acknowledgement of receipt. Assembly was simple, following the custom project provided with the Smart RH 250 H. In addition, the accessories are marked with different colored markings. The start-up is automatic. There is also a touch screen to place in the main room, a documentation booklet, a complete manual.
The sound level is very low, you have to listen to the house to perceive it. In addition, it is suspended by four cables which attenuates the transfer of noise.
After four months of operation in heating mode, I can say that the product gives me complete satisfaction. However, I don't have a full cycle of use in cold mode yet to judge. Its maintenance is very easy.
Thanks to the MyDATEC salesman for his friendliness, his reactivity and his skills and to the MyDATEC company for finding French products on the market.
Sincerely
Didier.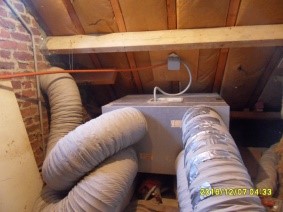 AERO-PLAST STH 830 NR FROM 1980