BEAUVAIS (60000)
Type of project : Replacement
In Beauvais, on 06/12/2010
Hello,
We acquired a MyDATEC RT 200 H thermodynamic ventilation system in February 2010, replacing our old double flow ventilation with heat recovery (RX 760 AEROPLAST). The existing air circuits, suction and supply, were retained, so the installation did not require any major work in the various rooms and went off without a hitch. The set found its place in the lost attic of our pavilion despite the narrowness of these. The ducts were placed laterally to facilitate access to the filters and covered with glass wool.
During the mid-season periods, spring and autumn, the electric heating was not put in service, the MyDATEC thermodynamic ventilation allowed to obtain 21° in all the rooms (which was not possible with our old ventilation!). The heating system was only put into operation in November.
Also noteworthy is the reduction of humidity in the bathroom.
On the hottest days of the summer, the MyDATEC thermodynamic ventilation system allowed us to lower the temperature inside our house by a few degrees, which made it much more pleasant.
In summary, the MyDATEC thermodynamic ventilation system has brought us increased comfort in our house and we are completely satisfied.
Alain *****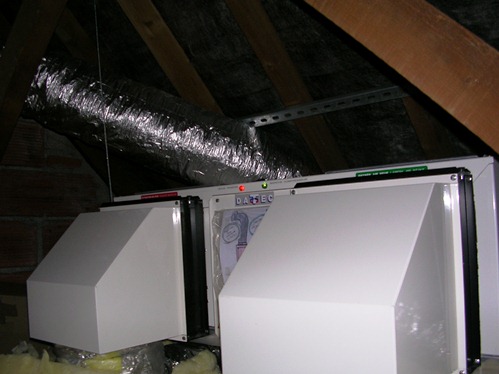 MyDATEC Thermodynamic Ventilation System