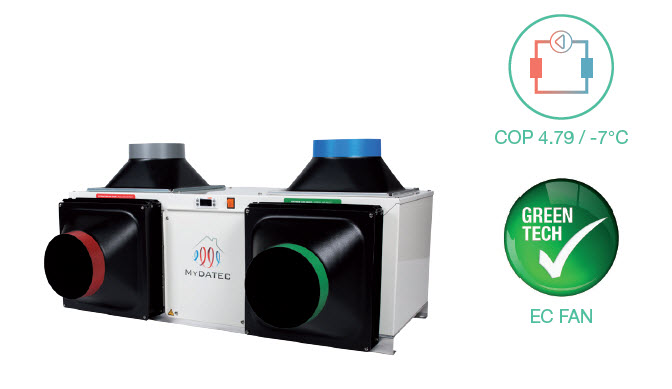 [download link="https://www.mydatec.com/wp-content/uploads/2018/10/SMART-R_19102018.pdf"]See the SMART R range data sheet[/download]
Ventilate, heat, cool, update the performance of your CMV!
Benefits
Thermodynamic double flow

Free cooling or active cooling if installed with insulated ducts
Adaptation kit dedicated to the replaced machine
Learn more about the MyDatec global heating solution
Field of application
Replacement of old double flow ventilation systems
Implementation
In an isolated technical room
Condensate to be provided
Insulated blower pipes (min. 25mm)
Insulated exhaust ducts (min. 25mm)
Reject / fresh air 25mm or 50mm insulated ducts
Electrical: 230V – 50Hz power supply (2.5mm²)
Communication: 4 wires 0.5mm² max.
Description Smart R
Automatic start-up
Compact monobloc, without outdoor unit
20/10 white pre-painted aluminum finish
Thermoacoustic insulation
Integrated extract air heat pump
Rotary compressor, French
Low energy fans (EC ERF 2015)
Adjustable ventilation rate
Unit precharged with R407C gas
Maintenance through the front panel
Wall bracket, with mounting diagram
Main equipment replaced by MyDATEC Smart R
MyDATEC range to replace your
DESIGNATION

DESCRIPTION
KIT MyDATEC Smart 200R control unit
Thermodynamic double flow CMV
Heating 1.9kW
Adapter kit
Touch control
Adapter kit
Suspension kit
Angled decks
Reinforced waterproof aluphonic sheath
Clamps
Special adhesive tape
Supplied with fittings specific to the brand of your old
machine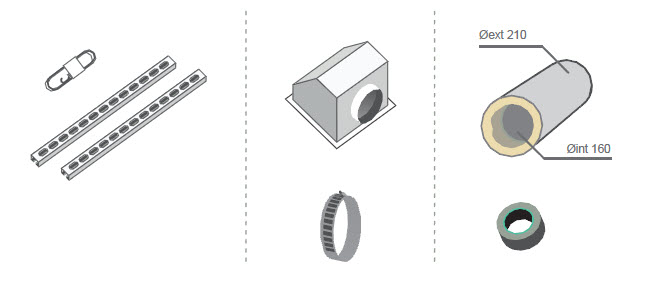 Options
DESIGNATION

DESCRIPTION

Bizone
Independent control of the day and night zones (ideal for
a house of more than 160m²)
Cold +
If the ducts are insulated, possibility of cooling by PAC
Airflow adaptation kit
2 plates for adaptation on extraction and insufflation networks
existing
Technical specifications
Smart 200R

COP (+7°C ext. / -7°C ext.) with
20°C int.

3,67 / 4,79

Hot power supplied at -7°C
ext. / 20°C int.

1,9kW

Absorbed CAP power
normative at +7°C ext. / 20°C int.

0.52 kW

EER at 35° C ext. /27°C int.

2,41

Cooling capacity supplied to
35° C ext /+27°C int.

1.78 kW

Nominal air flow rate to be considered
account for the thermal calculation

200 m3/h

Max. air flow rate configurable
(200 Pa)

600 m3/h

Average absorbed current

2,3A

Heater power
additional max.

2 kW

Power supply

230 V – 50 Hz

Recommended protection

10 A curve D

Filtration

G4

Refrigerant

R 407 C

Refrigerant mass

900 g

Weight of the plant

60 Kg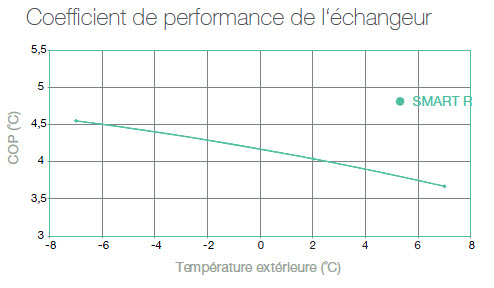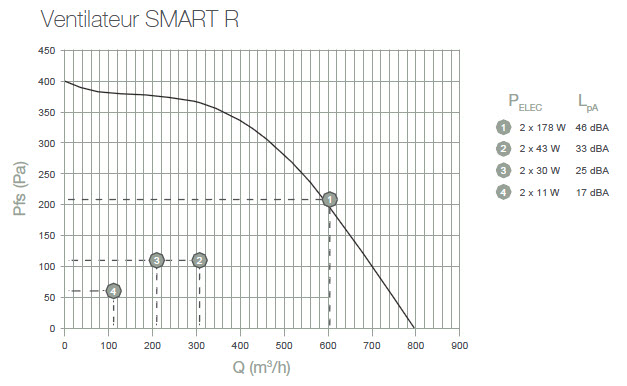 All data and photos published on this site are provided for information purposes only. They are subject to change at any time due to their non-contractual nature.