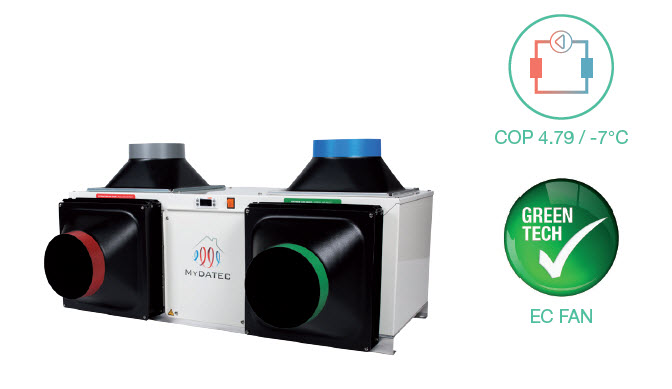 [download link="https://www.mydatec.com/wp-content/uploads/2018/10/SMART-R_19102018.pdf"]See the SMART R range data sheet[/download]
Ventilate, heat, cool, update the performance of your CMV!
Benefits
Thermodynamic double flow

Free cooling or active cooling if installed with insulated ducts
Adaptation kit dedicated to the replaced machine
Learn more about the MyDatec global heating solution
Field of application
Replacement of old double flow ventilation systems
Implementation
In an isolated technical room
Condensate to be provided
Insulated blower pipes (min. 25mm)
Insulated exhaust ducts (min. 25mm)
Reject / fresh air 25mm or 50mm insulated ducts
Electrical: 230V – 50Hz power supply (2.5mm²)
Communication: 4 wires 0.5mm² max.
Descript