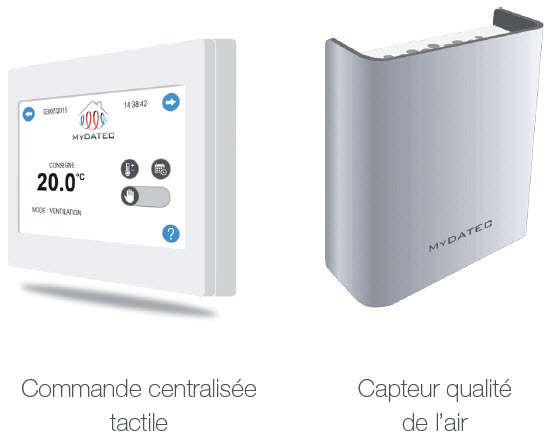 [download link="https://www.mydatec.com/wp-content/uploads/2018/10/PILOTAGE_19102018.pdf"]See the Tactile Control data sheet[/download]
Benefits
Touchscreen interface
Temperature sensor
Humidity sensor
Volatile Organic Compounds (VOC) sensor
Principle
The MyDATEC system is controlled by a touch screen that brings together all the available functions with a very intuitive interface.
The user of the system will be able to set the desired comfort temperature, to carry out its weekly programming via an ultra simple interface. All of the
Information on the operating temperatures of your thermodynamic double flow are available. On these pages, we have gathered all the information you need to manage your quality
information about the power consumption of your system distributed in the different operating modes (Ventilation / Free cooling / Heating / Cooling), as well as the management of the filter replacement function.
An installer's menu also allows you to fine-tune the control without having to intervene on the system's internal controller interface.
In the event of a problem, the touchscreen interface provides the user with information on the cause of the problem, allowing the manufacturer and your installer to quickly resolve the problem.
malfunction.
Functions
DISPLAY