REPLACEMENT OF DE DIETRICH HEAT PUMPS AND OTHER MODELS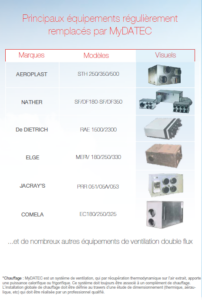 MyDATEC offers you a complete kit for the replacement of your heat pumps de Dietrich heat pump replacement by a simple and economic thermodynamic CMV system.
The MyDatec kit replaces your Dietrich heat pump, another heat pump on extracted air, or thermodynamic VMC that has become obsolete. The models we replace the most are: Comela, Jacray's, Nather, Aeroplast, RTR 3000 DATEC…
MyDATEC offers you a complete, ready-to-install package with a specific adaptation kit in place of your old system. Do not hesitate to contact us!
For a lower consumption and superior performance, the system easily adapts to the new standards of insulation BBC (Low Consumption), passive houses RT 2012 and passive houses or positive energy houses (BEPOS).
MORE INFORMATION ABOUT OUR REPLACEMENT SYSTEM ?
SUGGESTED LINKS TO VISIT FOR DE DIETRICH HEAT PUMP REPLACEMENT
To learn more, contact us!