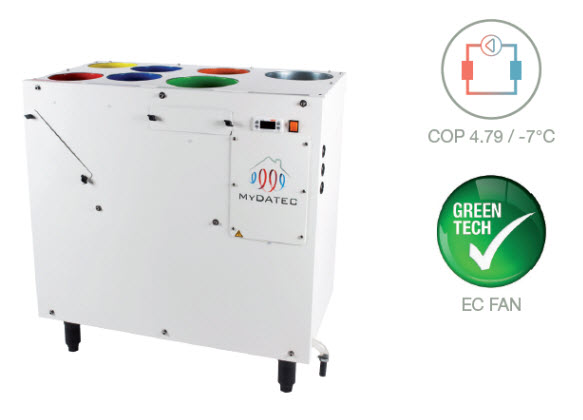 [download link="https://www.mydatec.com/wp-content/uploads/2018/10/SMART-V_19102018.pdf"]See the SMART V range data sheet[/download]
Ventilate, heat, cool, save!
The Smart V is a double flow ventilation system with thermodynamic recovery.
Benefits
Understanding the heating system of a MyDatec CMV
Field of application
Housing (new or renovation)
Implementation
In an isolated technical room
Condensate to be provided
Insulated blower pipes (min. 25mm)
Insulated exhaust ducts (min. 25mm)
Reject / fresh air 25mm or 50mm insulated ducts
Electrical: 230V – 50Hz power supply (2.5mm²)
Communication: 4 wires 0.25mm² max.