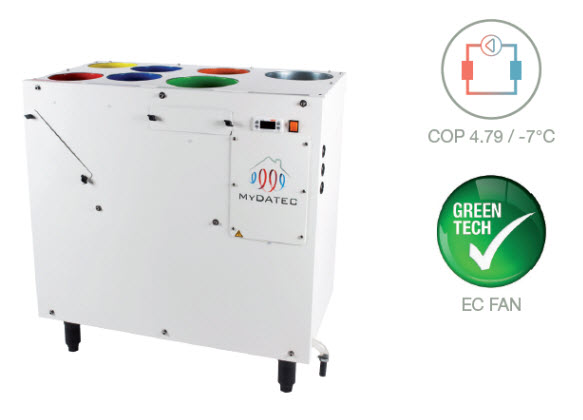 [download link="https://www.mydatec.com/wp-content/uploads/2018/10/SMART-V_19102018.pdf"]See the SMART V range data sheet[/download]
Ventilate, heat, cool, save!
The Smart V is a double flow ventilation system with thermodynamic recovery.
Benefits
Understanding the heating system of a MyDatec CMV
Field of application
Housing (new or renovation)
Implementation
In an isolated technical room
Condensate to be provided
Insulated blower pipes (min. 25mm)
Insulated exhaust ducts (min. 25mm)
Reject / fresh air 25mm or 50mm insulated ducts
Electrical: 230V – 50Hz power supply (2.5mm²)
Communication: 4 wires 0.25mm² max.
Dimensions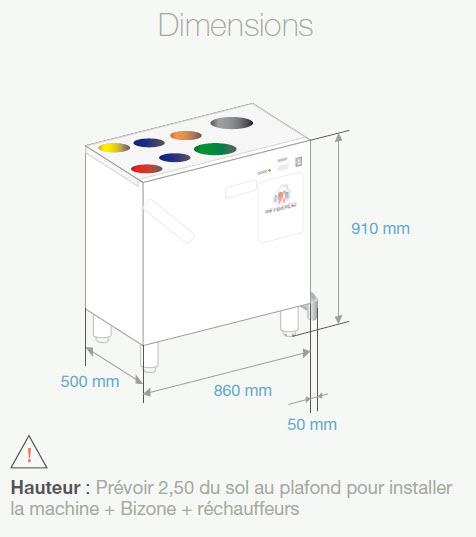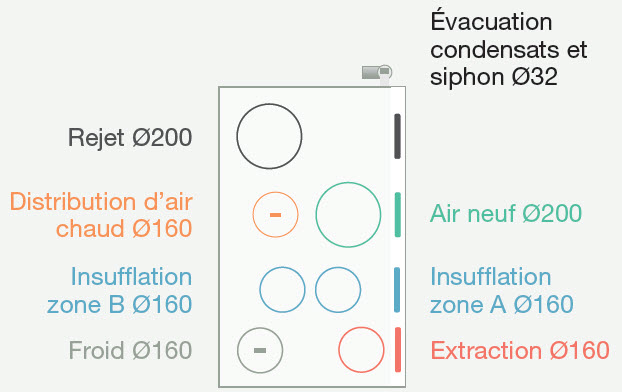 Description
Automatic start-up
Compact monobloc, without outdoor unit
20/10 white pre-painted aluminum finish
Thermoacoustic insulation
Integrated extract air heat pump
Rotary compressor, French
Low energy fans (EC ERF 2015)
Adjustable ventilation rate
Unit pre-charged with refrigerant
Maintenance through the front panel
Range
DESIGNATION

DESCRIPTION

KIT MyDATEC Smart 200V control unit
Thermodynamic double flow CMV
Heater 5.1kW (including 3.2kW of additional heaters)
Cooling 1.78kW (free cooling or active)
Hot air distribution (stove, mezzanine)
Touch control
Options
DESIGNATION

DESCRIPTION

Bizone
Independent control of the day and night zones (ideal for
a house of more than 160m²)
Ceiling feedthrough
Aesthetic and watertight duct connection for
ceiling
Sheath cover
Telescopic panels (adjustable to the height of your ceiling)
designed to mask the ducts in an aesthetic way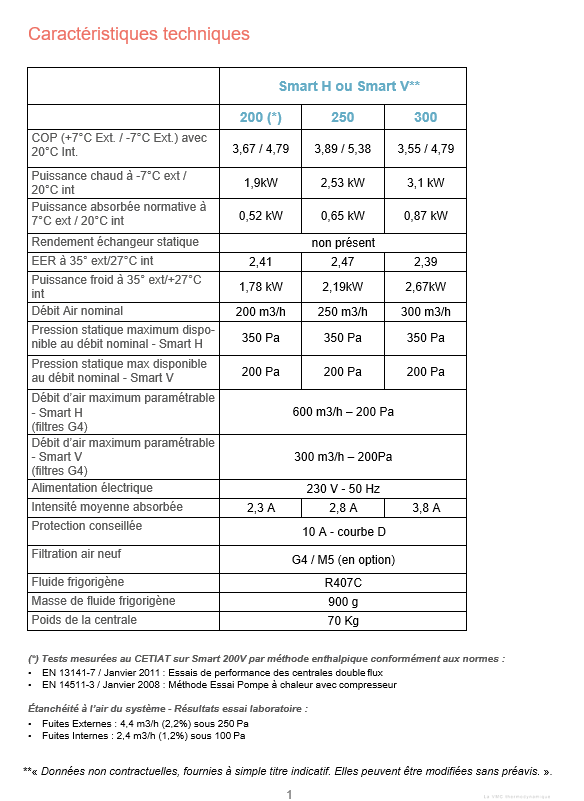 All data and photos published on this site are provided for information purposes only. They are subject to change at any time due to their non-contractual nature.