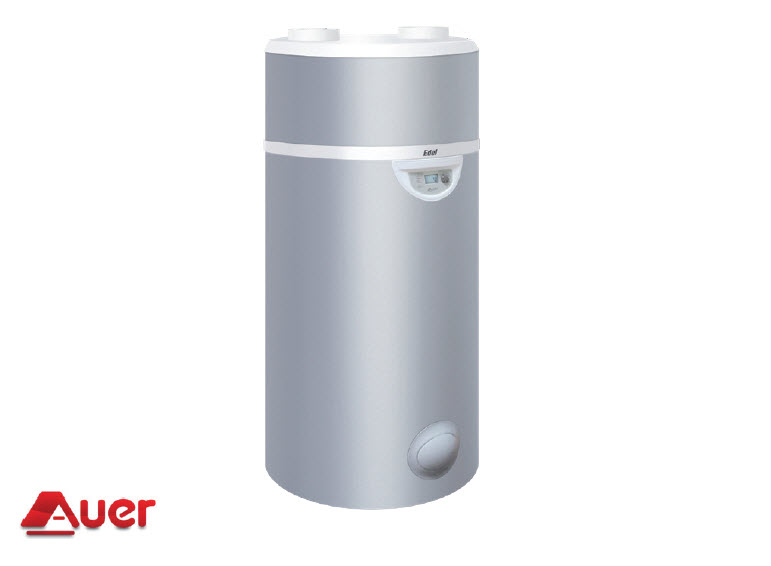 [download link="https://www.mydatec.com/wp-content/uploads/2018/10/ECS_19102018.pdf"]See the data sheet Domestic hot water[/download]
THERMODYNAMIC BALLOON
The Edel thermodynamic water heater by Auer meets the requirements of the new thermal regulations.
Commonly referred to as a "tank", this water heater is an excellent addition to the MyDatec global solution. In addition to reducing overall consumption, this thermodynamic heater will blend in completely with your new home. In renovation, it enhances your property by improving the energy label and reducing consumption.
Benefits
COP 3.44
Tax credit
QFluid, ecological without HFC
Compliance
RT2012 – BEPOS – Patented technology –
not subject to F-GAS regulation
Standard NF16147
Labelled Eco conception low consumption
Field of application
Housing(new or renovation)
You have a room (garage, cellar or laundry room) of more than 10m² with a minimum ceiling height of 2m10, far from the living spaces.
Implementation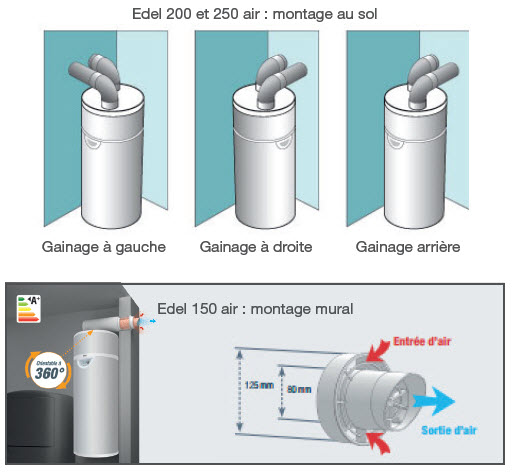 Description
REVOLUTIONARY DESIGN
High performance eHD exchanger, patented
High efficiency compressor
Minimum sound pressure level (33dB(A) at 2m)
Reinforced sealing
PRACTICAL AND ECOLOGICAL
Stainless steel tank : no anode (except EDEL 150 AIR)
Convenient and compact for easy transport and installation
Intuitive control
No greenhouse effect: no end-of-life fluid pollution
EFFICIENT AND ECONOMICAL
Exceptional COP of 3.44, according to the NF16147 standard
Up to 80% of free energy taken from the air to heat domestic water
Edel consumes up to 5 times less than an electric water heater
Range
| | |
| --- | --- |
| DESIGNATION | DESCRIPTION |
| Edel 150 Air | ECS_THERMO_150L |
| Edel 200 Air | ECS_THERMO_200L |
| Edel 270 Air | ECS_THERMO_270L |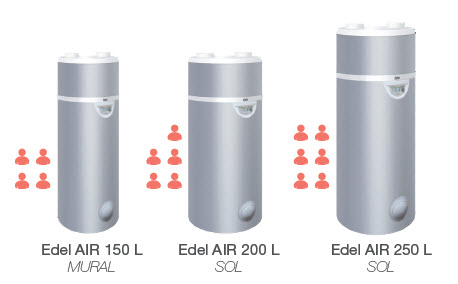 DESIGNATION
DESCRIPTION

Air intake and discharge kit
acoustic in facade with
wall crossing
KIT_EA_FACADE_200_ECS
Air intake and discharge kit
acoustic suction cup
KIT_EA_VENTOUSE_150_ECS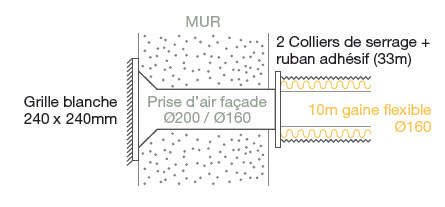 Technical specifications
EDEL 150 AIR
EDEL 200 AIR
EDEL 270 AIR
Heat pump performance
Nominal volume

L

150
200
200
Maximum power (heat pump + auxiliary)

W

1600
2200
2200
Air temperature

°C

-7 à +35
-7 à +35
-7 à +35
DHW temperature with heat pump

°C

30 à 55
30 à 60
30 à 60
Max. absorbed power
by the heat pump for water at 60°C

W

350
700
700
Air flow rate

m³/h

80 à 140
250 à 400
250 à 400
Sound pressure level at 2m

dB(A)

31
33
33
Refrigerant

– / kg

R290 / 0,1
R290 / 0,15
R290 / 0,15
Global Warming Potential

kg

2,8 kG
CO2 equivalent
2,8 kG
CO2 equivalent
2,8 kG
CO2 equivalent
Normative data (EN 16147)
Drawing cycle

–

M
L
L
COP (outside air +7°C)

–

2,59
243,21
3,08
Reserve electrical power PES

W

17
24
23,9
Reference hot water temperature

°C

54,29
53,46
53,8
Heating time

–

8h52
6h13
9h58
Erp energy class

–

A
Seasonal energy efficiency

%

105
130
128
Vmax

L

211,4
241
339
V40 td

L

417
628
663
COP (ambient air +15°C)

–

2,89
3,3
3,2
Dimensions and connections
Dimensions

mm

Ø 525 x H 1660
Ø 630 x H 1470
Ø 630 x H 1748
Tare weight

kg

59
71,2
80,7
Air duct connection diameter
(suction + discharge)

mm

125 / 80
160
160
Max. length air duct
Ø 160 mm (suction + discharge)

–

In suction cup: 5 m
Flexible sheath : 10 m ;
and smooth sheath : 20 m
Flexible sheath : 10 m ;
and smooth sheath : 20 m
EFS and ECS connection diameter

thumb

M 3/4
M 3/4
M 3/4
Power supply

–

230 V – 50 Hz – 10 A
230 V – 50 Hz – 10 A
230 V – 50 Hz – 10 A
Protection class

–

IPX4
IPX4
IPX4
Circuit breaker (curve D)

A

10
10
10
Balloon
Materials / protection

–

steel mesh
stainless steel
stainless steel
Maximum working pressure

MPa

0.6 (6 bar)
0.6 (6 bar)
0.6 (6 bar)
Condensate flow rate

L / h

0,12
0,3
0,3
Electric power supply
integrated (safety=85°C)

W

1200
1500
1500
Maximum temperature
with electric support

°C

65
65
65