MyDATEC: Change your ventilation system quickly and easily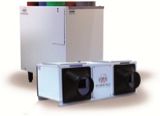 Changing your CMV
: Simple and quick to install, the Thermodynamic system MyDATEC provided in kit ready to install, can use your existing network of VMC and comes in replacement of your heat pump or other system become obsolete.
Unlike your old system, MyDATEC's thermodynamic CMV or 3-in-1 multifunction system (ventilation, heating, soft cooling) meets your comfort requirements by adapting to high-performance buildings of the BBC (Low Energy Consumption) type, RT 2012 houses and passive houses or positive energy buildings (BEPOS).
Change my single-flow ventilation system: first think about reviewing the insulation and airtightness of your house. Indeed, the MyDATEC thermodynamic CMV is a system that will be mostly used in thermally efficient houses.
Also consider that the ventilation system will have to pass through all the rooms in your house. Be aware that you will probably need some space such as a false ceiling or attic space. MyDATEC technical advisors are available to diagnose the replacement of your single-flow ventilation system.
Change my double flow CMV: Think that we will not always be able to replace only the group and connect to the existing aeraulic network. In some cases, it will be necessary to replace the ventilation system as well. MyDATEC's teams of technical advisors are available to diagnose the replacement of your double flow ventilation system.
Change my thermodynamic CMV (heat pump on extracted air type RAE from DIETRCH, AEROPLAST, JACRAY'S, NATHER, COMELA…): MyDATEC offers replacement kits for this type of replacement of CMV. In most cases, changing the unit is suf