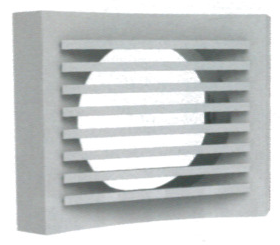 Double flow ventilation system (thermodynamic)
Wall mounting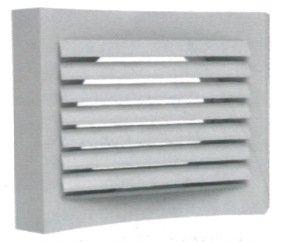 Double flow ventilation system (thermodynamic)
Ceiling mounting
APPLICATION
The air inlets are placed in the "living" rooms. In reality, for the thermodynamic double flow CMV, these vents have the function of "blowing" the new air, healthy and filtered beforehand in the thermodynamic CMV, into the house. These are the ones that will allow the diffusion of clean air at the desired temperature in the house. They can be found in the living room, dining room, bedrooms and other living areas.
The air inlets are ceiling or wall mounted depending on their location. Each room has its own comfort flow rate, and for each flow rate there is a specific air outlet. The insufflation mouth is sized according to 3 fundamental criteria:
-the range of the air to reach in the volume: this is what will allow to distribute the air in the room. heating or cooling capacity of the thermodynamic CMV to reach a homogeneous temperature in the whole room
– the duct diameter of the device and the pressure drops: this is what will allow to ensure a good air renewal, homogeneous in the whole house.
comfortable blowing speed
(to eliminate any draught or air flow sensation) and to ensure a good air renewal, homogeneous in the whole house.
– Noise level control: Each trio of flow rate-diameter types of blower outlet delivers a more or less audible noise level. MyDATEC teams will work to size the vents to a maximum of 20 decibels whenever possible.
If you choose the
ready-to-install" accessory kit
with your MyDATEC thermodynamic CMV, then it is the dedicated technical design office that will size the registers according to the configuration of your site, and will prepare the registers adapted to each of your technical rooms.
You will then only have to refer to the plan provided in your thermodynamic CMV kit + "ready-to-install" accessories kit to position the air inlets of your MyDATEC thermodynamic double flow CMV.
TECHNICAL DESCRIPTION
(1) Die-cast aluminum body
(2) Steel clips for mechanical connection
(3) Extruded aluminum profile fins
(4) Foam gasket classified M1 for sealing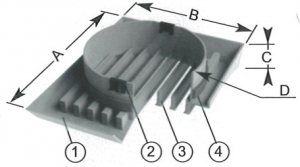 IMPLEMENTATION
These terminals are mounted on a sleeve for wall mounting, or on a plasterboard sleeve for ceiling mounting. The terminal is held in place by 2 clips, with a foam gasket providing a seal.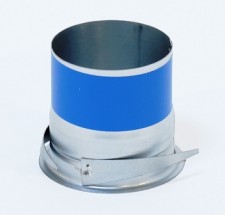 SLEEVE PLASTERBOARD MOUTH BLOWING VMC