Principle:
The wood stove is often criticized for heating too much the room in which it is installed and not enough the rooms further away or on another floor. The MyDATEC thermodynamic CMV, thanks to a special intake (Brassage+ option), positioned near the wood stove, will capture part of the heat, then redistribute it to the rest of the house via the CMV's air blowing network. Thus, the heat is more homogeneous and better distributed. Of course, there are commercial hot air distributors mounted on wood stoves, but the MyDATEC system has the advantage of using the existing network of the thermodynamic double flow ventilation system, and therefore requires no additional installation, while remaining very quiet.
In addition, the wood stove is often synonymous with "wood chores" and is not very suitable for heating in mid-season. Thanks to its integrated heat pump, MyDATEC's thermodynamic CMV provides heating alone in mid-season, and most of the heating in winter, provided that the house meets the new standards for efficient construction (learn more about CMV regulations). This basic heating is diffused by the VMC via the air vents, and consumes very little energy thanks to the performance of its heat pump, which recovers heat from the polluted air in the house before letting it out. The wood-burning stove then functions as a user-friendly heating reserve, which is turned on on cold winter days.
> Discover the different power reserves that exist.
In this way, MyDATEC becomes an ideal complementary solution for all households that want to heat with a wood stove, while focusing on comfort.
The "Brassage+" option is compatible with any type of RT2012 compatible log or pellet stove
MyDATEC + wood stove: the perfect RT2012 duo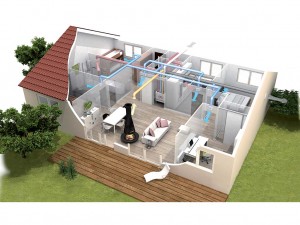 Many individuals, especially in wood-frame houses, want to heat with a wood stove. Problem: according to the RT2012 application sheet concerning the consideration of wood-burning appliances in thermal simulations, stoves cannot cover an area of more than 100m², and therefore necessarily require a backup. Electricity is not always possible, because depending on the surface area, the maximum permitted primary energy consumption levels are often exceeded. By coupling a MyDATEC thermodynamic CMV with a wood stove, the surface limit is pushed back to 200m², and the results of thermal calculation simulations are very satisfactory, thanks to the excellent efficiency of the integrated heat pump.
With the thermodynamic CMV, MyDATEC also provides an effective response to summer comfort (through active and passive cooling) and to problems related to indoor air quality (flow rates ranging from 150m3/h to 600m3/h).
Request a quote for the kit of accessories ready to install thermodynamic VMC + wood stove.
Discover our different solutions of power reserves for your thermodynamic VMC.