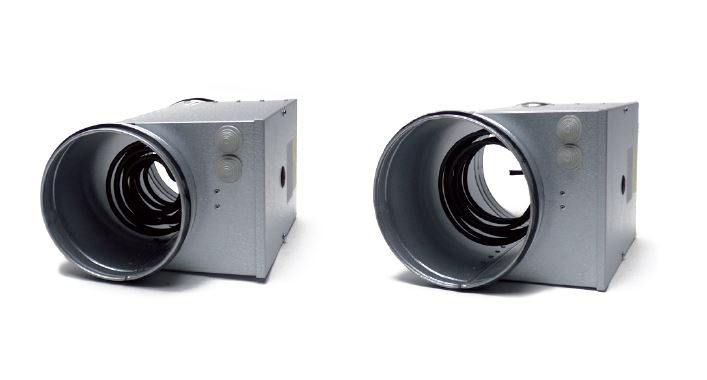 [download link="https://www.mydatec.com/wp-content/uploads/2018/10/RECHAUFFEUR_19102018.pdf"]See the data sheet of the heater range [/download]
Batteries integrated in the ventilation circuits, upstream of the supply outlets. Coils designed for air heating, in forced convection with a minimum speed of 2 m/s.
Benefits
Field of application
Habitat
– Double flow ventilation system
Description
Addition of a sleeve and a gooseneck to connect the heater directly to the sheath and to the machine. Integrated thermal protection. Control via MyDATEC control system possible. Manual thermal safety reset directly on the cover.
Implementation
Depth (p) : 270mm
Height (h) : 205mm
Width (l) box – battery: 70mm
Diameter (Ø) of the battery: 160 or 200mm
Battery power: 600W / 1000W / 1600W (Ø160) and 1000W / 2000W (Ø200)
Voltage: 230V single phase
Galvanized steel sheet
IP407 waterproof connector cover
Manual thermal safety reset on cover