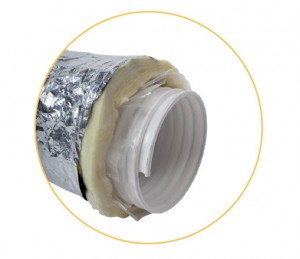 [download link="https://www.mydatec.com/wp-content/uploads/2018/10/GAINE-SEMI-RIGIDE_19102018.pdf"]See the data sheet Semi-rigid sheath[/download]
Benefits
Isolated
Reinforced sealing
Easy to clean for more hygiene
Cleanable
Shape memory
Compliance
Food Quality according to EU 10 / 2011
No VOC, no release
| | |
| --- | --- |
| DESIGNATION | REFERENCE |
| Cleanable white PVC Food sheath Ø100 | CLEANABLE_ISOLATED_SLEEVE_D100 |
| White cleanable PVC Food sheath Ø125 | CLEANABLE_ISOLATED_SLEEVE_D125 |
Field of application
Installation of ventilation, heating and air conditioning in all types of construction including technical clean rooms and hospitals.
Description
100% recyclable non-releasing PVC waterproof sheath
Temperature resistance: -10°C to 60°C
Airflow characteristics :
The document NF DTU 68.3 defines in Part 1.1.1 Annex A the linear pressure drops of the air ducts according to the formula :
ΔP : total pressure difference
expressed in Pascal (Pa)
Q : air flow rate expressed in m3/h
D : Diameter of the conduit expressed in mm
L : Length of the conduit expressed in m

The aeraulic tests on our semi-rigid duct allowed us to define the coefficient k of the formula. You will find in the table below the values of this coefficient k according to the diameter of the duct used, allowing you to evaluate the linear pressure losses of your air duct network.

Implementation

Conduits delivered in 10 m rings
Conduits deployed on the planned route
Glass wool insulation 25 mm
Ensure that conduits are not crushed throughout the network
Make sure that the bending radii are respected to avoid any uncontrolled pressure drop problem on the air duct network
All the interconnections of the various parts of the network with the ducts will be ensured by means of clamps and MyDATEC adhesive tape.